RELIABLE TREATMENTS FOR REDUCING FINE LINES & WRINKLES
This product is a confidence BOOSTER! A microneedling treatment, also referred to as Dermapen or dermaroller treatment is an advanced non-surgical cosmetic procedure used to reduce wrinkles, smoker's lines, large pores, heal acne, improve surgical and burn scars as well as rejuvenate and tighten the skin. Using the Dermapen on scars helps to break down the fibrous tissue naturally allowing the skin to heal itself and improve the appearance of the scar. The microneedle pen can also be used for other conditions such as improving stretch marks, regulating skin pigmentation, and treating sun damage. Reduce wrinkles, smoker's lines, large pores, heal acne, surgical & burn scars as well as rejuvenate & tighten the skin using microneedling in Chicago.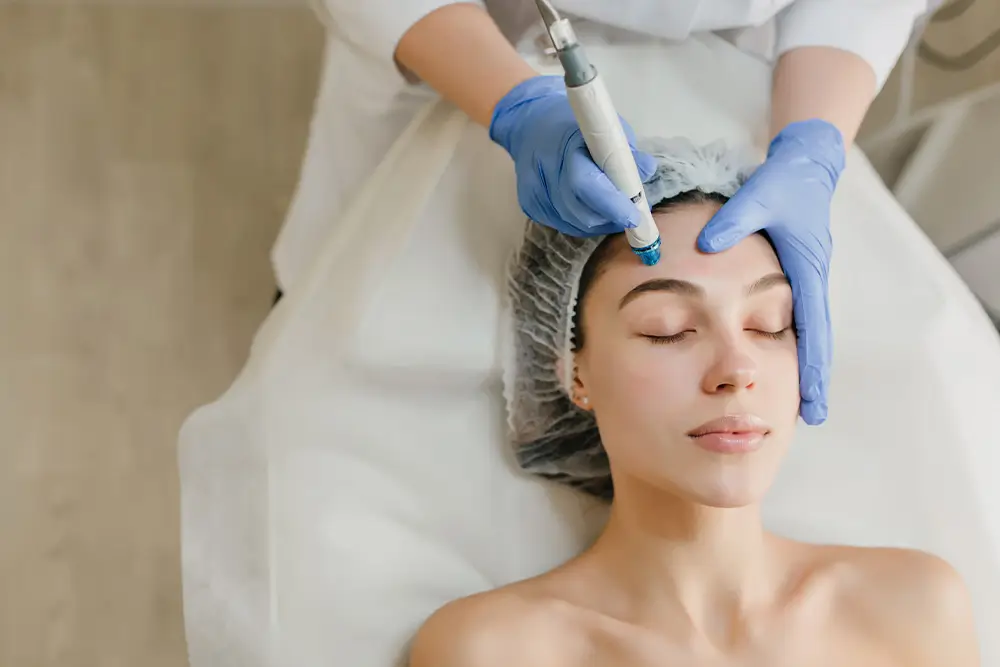 MICRONEEDLING FOR ACNE SCARS
Acne scars are traditionally difficult to treat particularly the ice pick scars. Many patients have undergone strong laser treatments to help improve the skin texture. Recent studies comparing microneedling to laser treatments have shown that microneedling for acne scars show equal or better improvement than laser alone. Microneedling also requires less downtime than other more invasive lasers.
IMPROVE HYPERPIGMENTATION
Are those blotches on your face driving you crazy? Years of sun exposure or brown spots left behind from popping pimples can leave our skin tone looking uneven and unhealthy. Beautiful, young, radiant skin is typically even in tone and texture. If your skin has been damaged from the sun or years of acne, then microneedling can help. Microneedling helps improve skin discoloration by stimulating collagen and helping to slough dead skin on the surface exposing new less damaged skin. Microneedling can be combined with hyperpigmentation cream or other hyperpigmentation products that further help reduce the visible spots and prevent new ones from forming.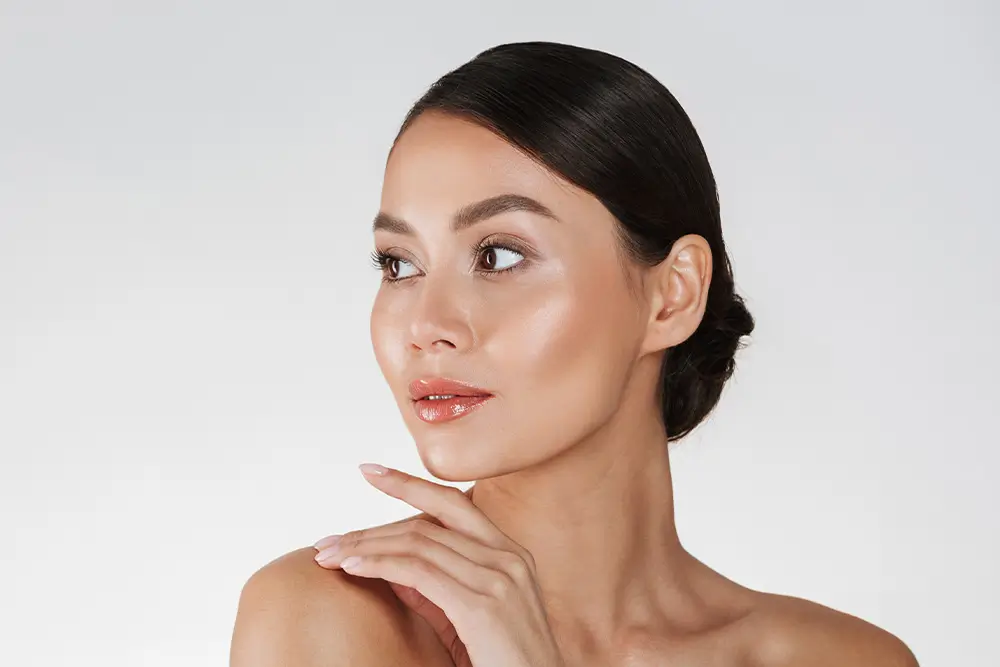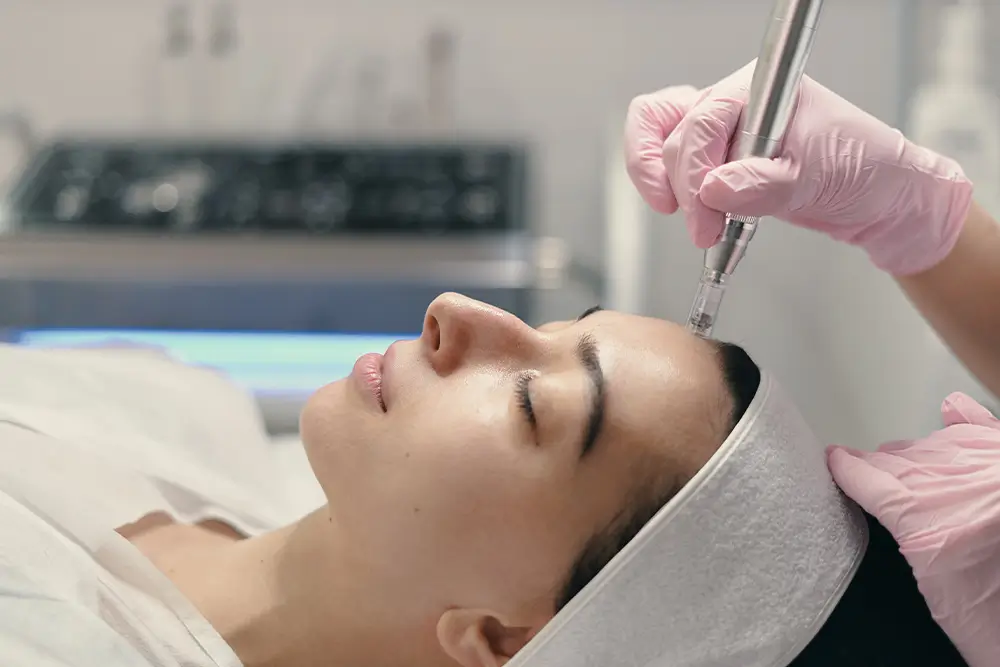 WHAT ARE THE BENEFITS OF MICRONEEDLING?
Helps reduce fine lines and wrinkles
Helps fade sun damage
Tightens the skin
Reduces enlarged pores
Reduces the appearance of stretch marks
Can help reverse hair loss
Improves facial fat volume
Reduces the appearance of acne scars
Helps treat hyperpigmentation
Improves self-confidence
Non-invasive and non-surgical
No scarring
No side effects or allergic reactions
Painless
No downtime or recovery required
Safe for all types of skin
Helps replenish collagen stores
Helps diminish facial redness
Helps reduce the appearance of under-eye bags and dark circles
Short treatment time of less than 30 minutes
Microneedling Chicago Cost
Microneedeling Consultation - Free, with security deposit of $50
Microneedling - Full Face
$300
Microneedeling + PRF Full face and Neck
$750
Microneedling with PRF - Full Face
$550
Any cancellations with less than 24 hours of notice are subject to a cancellation fee of 50% of the full-service price. Clients who miss their appointment(s) without any prior notification will be charged 100% of the scheduled service price. Missed consultation appointments without prior notification will be charged a $50 fee. We recognize the time of our clients is valuable and have implemented this policy for this reason. Please call us at (252) 722-5006 if you're unable to keep your appointment.
Frequently Asked Questions
What are the side effects of microneedling?
What does my skin look like after a treatment? After the procedure, your skin will show signs of redness and will appear similar to a moderate sunburn. There may be some slight swelling. The redness and swelling usually subside in 24-48 hours. By day 3, the skin takes on a pink color, but there is minimal evidence that the procedure has taken place. The skin may feel tight, dry or sensitive to the touch for the first 3 days.
Is microneedling painful?
No. The topical numbing cream we apply makes the treatment very comfortable. You may feel a vibration sensation during the treatment, similar to an electric toothbrush.
How many sessions will I need?
That depends on the client, and the degree of correction desired. This is best determined during your initial consultation. We may suggest a session every 3-4 weeks for 4-6 months for optimal results. Continued improvement is then seen up to 6-8 months after the last treatment due to ongoing collagen growth and remodeling. Clients may want to update the treatment every 6-12 months thereafter.
What is the aftercare for microneedling treatments?
You should wear SPF 30+ sunblock every day for at least 10 days after the treatment. You can return to your regular makeup routine after 2-3 days once the skin is nearly back to normal.
Is there anyone who cannot get microneedling?
This treatment should NOT be used on active acne, severe rosacea, active skin infections, keloid scars, actinic keratosis or any skin cancers, eczema, psoriasis, or sebaceous hyperplasia. Clients with a history of cold sores (fever blisters) may want to pre-treat with anti-viral antibiotics to reduce the risk of an outbreak. This treatment depends on the wound healing process for its benefits, so it is not recommended if you have diabetes, have an impaired immune system, or are taking immune-suppressive medications due to an increase in infection risk. Clients on blood thinners may have increased pinpoint bleeding or bruising. Clients who have had Botox should wait at least 14 days, and clients who have had fillers should wait 28 days before having microneedling.