The following post-treatment care suggestions should be followed for the first 24 to 48+ hours after treatment:
Do not touch or scratch the treated area.
Avoid any friction to the treated area.
Apply a smoothing or antiseptic product over the area that is sensitive or subjected to infection during the first 48+ hours after the treatment.
Apply cold water or ice compress if necessary.
Apply Neosporin Cream over the areas subjected to infections, one time during 24 hours after treatment. Starting on day one applies Aquaphor or Eucerin Original Healing Soothing Repair Cream 2 to 5 time the first day after the treatment. Avoid contact with oily, perfumed, or alcohol-based products.
Avoid hot baths and saunas.
Do not visit a tanning salon.
Avoid exposure to U.V radiation for 24 hours before the treatment and 48 hours after treatment.
Apply an overall sunscreen (min. SPF 30+).
After 5 to 7+ days or when redness disappears, exfoliate, and moisturize the area.
Use fresh make-up, purchased within the last 90 days to minimize infection.
Recommendation by the area:
Face: avoid using make-up products for the first 48 hours after the treatment.
Underarms: do not use deodorant 48 hours after treatment.
Bikini: it is preferable to wear white cotton underwear 48 hours after the treatment.
Possible skin reactions:
Redness of the treated skin area.
Light swelling of the tissues.
Heat and/or itching sensation.
If the treatment is done around the upper or lower lip, it is possible to activate Herpes (cold sores).
After treatment, an isolated follicle secretion may occur.
These effects will disappear based on the length of treatment and the client's ability to heal (a few hours after a 1-hour treatment, to 3 to 6 days after Large Volume Electrolysis (between 5 to 30 hours)).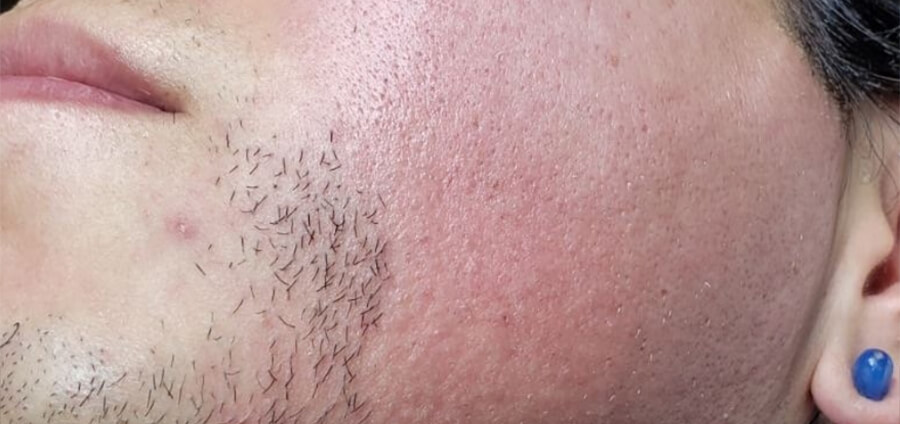 Electrolysis After Effects
Reactions such as redness, swelling, or tiny scab formation should be viewed as the actions of healthy skin repairing itself as fast as possible. The degree to which these reactions occur differs greatly between individual clients. All people are different in the way they heal. Following post-care instructions will help to minimize these after-effects. The eyebrow area can be prone to bruising due to the presence of tiny blood vessels close to the surface of the skin. Although the treated area will likely appear to return to normal within a short period, full healing of the skin can take 18+ months.
Learn more about Electrolysis Hair Removal

Verified
TG-Friendly by
Laura's Playground

Member
American Electrology
Association

Member
Electrologists Association
of Illinois