LARGE VOLUME ELECTROLYSIS CHICAGO
Electrolysis 100% Permanent Hair Removal & Skin Care is one of the few clinics in the US offering various Pain Relief options for Large Volume Electrolysis Hair Removal Treatments:
Board Certified Nurse Practitioner Administrating Intravenous Hydration, Oral Sedation, and Lidocaine Injection.
Board Certified Anesthesiologist Administrating Intravenous Sedation and Lidocaine Injections.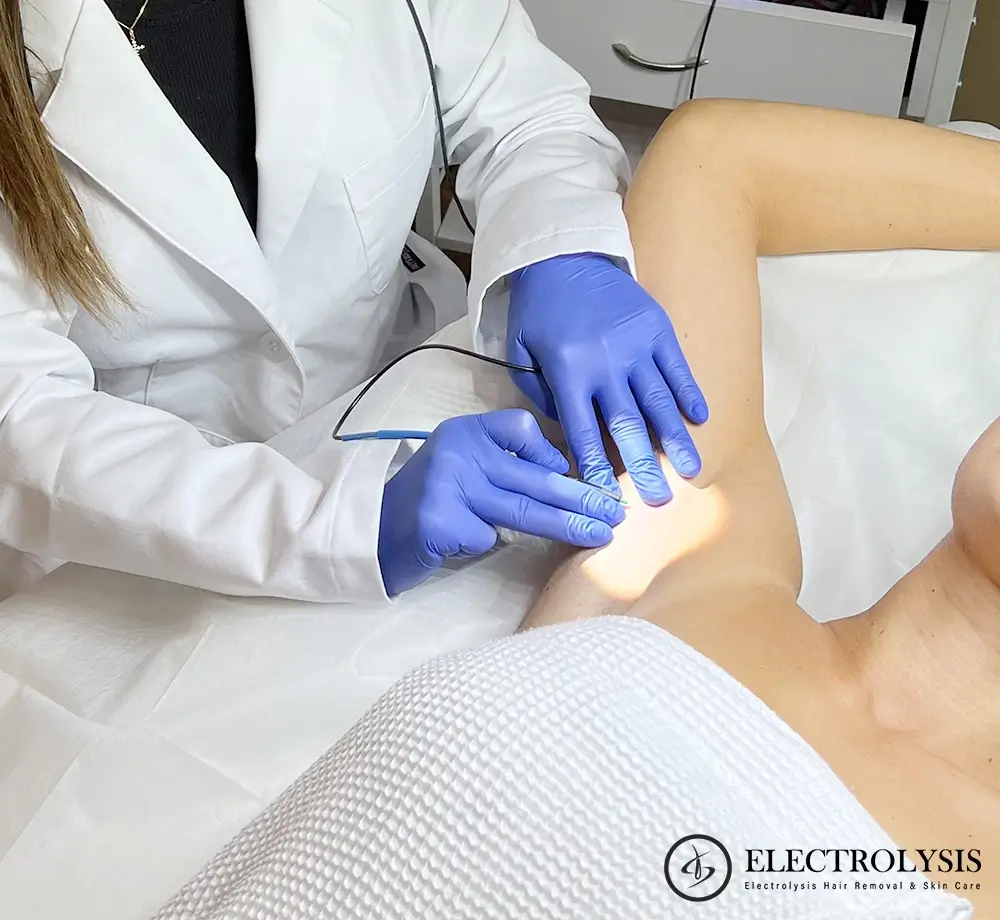 For almost every male-to-female transgender person, the beard is the real project area for Electrolysis Hair Removal. Facial hair is among the more visible secondary sex characteristics, and getting rid often is a nightmare for trans women. It hurts, it's expensive, it's embarrassing, and it seemingly takes forever.
Here at Electrolysis 100% Permanent Hair Removal & Skin Care in Chicago we developed a Large Volume Electrolysis Protocol with a set of pain relief options provided through a Board Certified Anesthesiologist and Nurse Practitioners:
Topical Lidocaine
Lidocaine Injections
Oral Sedation, IV Hydration & Lidocaine Injections
Intravenous IV Deep Sedation & Lidocaine Injections
Areas we can treat with Large Volume Electrolysis: face, body, breast and genital areas for MTF pre-op and post-op Facial Feminization, GRS, SRS surgeries.
Board Certified Nurse Practitioner Administrating Intravenous Hydration, Oral Sedation and Lidocaine Injection
Oral conscious sedation involves taking medication in our office orally 30-40 minutes before your electrolysis treatment begins. This method allows you to feel relaxed during your electrolysis treatment while remaining conscious and able to respond to questions. Although your electrolysis procedures may take hours, you'll feel as if they only take minutes. Some patients become so relaxed that they fall asleep. The effects of the sedative typically subside the following day. It's a very effective method of sedation that we use in our Chicago and Arlington Heights, IL, office.
Staying hydrated and retaining moisture on our skin is key for successful electrolysis treatments. Hydrated skin is better at conducting the currents used in electrolysis hair removal techniques and allows the hair to slide out easier from the follicle. We know that staying hydrated by drinking an adequate amount of water can be challenging. We are happy to offer our clients IV hydration. This would involve placing an IV at the time of the procedure to administer the fluids. Pending a consultation with our nurse practitioner, various additives can be included for an additional cost.
Treatment performed by 1 electrologist - $200/Hour
Treatment performed by 2 electrologists simultaneously - $400/Hour
Topical numbing cream – included.
Lidocaine injections – included.
Oral conscious sedation – included.
IV Fluids Hydration – included.
Customized IV Vitamin Therapy -additional cost price range from $150 – $250.
Board Certified Anesthesiologist Administrating Intravenous Sedation and Lidocaine Injections
Electrolysis 100% Permanent Hair Removal is offering deep IV sedation for large volume clients only. Deep IV sedation is a drug-induced state of relaxation during which patients are further unconscious to be totally unconscious. This service is provided through a Board Certified Anesthesiologist – administrated Intravenous Sedation and Lidocaine Injections. This service requires additional paperwork to be completed prior to booking to make sure the safest care is provided. A day or two prior to the scheduled procedure date, the Anesthetist will call the patient to go over further pre-op instructions. Clients are asked to arrive 30 minutes before their appointment where they will be with the anesthesiologist for the day and discuss the sedation plan. An IV is inserted typically into the client's arm so that the medications can be given during the procedure to help with both pain and anxiety.
The anesthesiologist can discuss any risks associated with this type of comfort care with you. The physician is present during the entire treatment and does stay after completion of the case to make sure the client recovers without issue. They will also call you the next day to see how you are doing.
*Our anesthesiologist will bill medical insurance for anesthesia services, except Medicare (for dental procedures) and Medicaid. They take care of all the billing, so you do not have to. Our Anesthesiologist are out-of-network with some insurances, but they do accept them. Without insurance $800/Hour/
Deposit for Anesthesia services:
(*This is a separate deposit in addition to the deposit for the electrolysis treatment)
Cost: $400
Electrolysis + Intravenous Sedation + Lidocaine Injections Cost:
Treatment performed by 1 electrologist – $200/Hour
Treatment performed by 2 electrologists simultaneously – $400/Hour
Large Volume Electrolysis Chicago Benefits
When to start facial Eelectrolysis?
Anyone who is planning to go full time and is even remotely considering the option of stealth is strongly advised to seek permanent facial hair removal as soon as possible in transition. For some transsexual women, it is the most time-consuming and expensive part of the entire process.
Should I be on hormones to start electrolysis?
Not necesary. Beard growth is driven by a genetic response of the hair follicles to the hormone called 'androgen'. This response of the hair follicles is genetic, and sadly we cannot yet change the genetics of your hair. From our experience, unless the masculinization process is put to a halt early in puberty, or the individual naturally has sparse beard growth, extensive facial Electrolysis is usually necessary for trans women.
How long will it take to clear my facial hair? How many clearing sessions will I need?
This is probably the most frequently asked question, and one we can unfortunately not answer with certainty. There are many factors influencing the amount of sessions needed to clear an area, some of which are still unknown to us.
To fully clear your facial hair permanently it can take anything from 8 months up to 2 years in some cases. The number of sessions needed varies from 8 to 15 sessions. The number of hours needed varies from 90 to 300 hours.
But can you give me an estimate based on the average person? On average, if we do a complete clearing of the face every session, about 8 to 10 sessions will be needed to fully clear the face in 100-150 hours. If they adhere to a 6 weeks interval the average person will have her face cleared in about one year.
Those are averages, we cannot guarantee this will be your time frame.
This average is based on the average density of beard and lip and the average response rate to the treatment.
We have experienced that there are patients where the treatment is less effective, with more regrowth of stubborn hairs. It really varies greatly from person to person.
For the moment we can unfortunately not give any guarantee except the following: in the end we always win. We are working hard to analyze our results and investigate what causes the difference in effectiveness and what can be done about it.
If we notice after the first session we don't have the desired killing result we will try different programs on different areas of the face. Some of these programs, like the blend programs, take at least 6 times more time. You have the risk during this second session that clearing cannot be completely finished, which is very distressing as you want to get rid of your facial hair as fast as possible. We fully realize this but still need to insist: in the end, once we found the correct program we will get you to the finish earlier.
We do a complete (partly non-permanent) clearing of the average beard and lip every 8-12 weeks (ideal to catch as much hairs in the growing phase as possible).
Approximately 60% of your hair follicles are active during the first clearing. Although all hairs will be cleared during the session, about 25-50% of the treated hairs will grow back, together with the 40% inactive hairs, you will have the impression between 75% and 90% grows back after the first session .
Your first sessions will account for the longest of all the clearings. Each follow up clearing will involve less time as there are progressively fewer hairs to be treated.
It is important to stick to the 8-12 weeks interval to have as many hairs in the visible stage as possible.
MOST (but not all) patients will lose their shadows permanently after the 4th clearing, as long as they adhere to the 8-12 week clearing interval.
Keep in mind!
When beginning your transition the most important thing to remember is that "nothing happens overnight".  The permanent removal of facial hair is a time-consuming, but wonderfully worthwhile process, and you will need patience and commitment to achieve your desired results.
You also need to remember that Electrolysis requires ​a considerable financial investment. Make sure that you can afford to see the process through and not be disappointed.
Need More Information About our Electrolysis Pain Relief Options?
Visit our Electrolysis Pain Management page for more details and prices.
Any cancellations with less than 24 hours of notice are subject to a cancellation fee of 50% of the full-service price. Any large volume hair removal canceled with less than 2 weeks of notice is subject to a cancellation fee of 50% of the full-service price. Clients who miss their appointment(s) without any prior notification will be charged 100% of the scheduled service price. Missed consultation appointments without prior notification will be charged a $50 fee. We recognize the time of our clients is valuable and have implemented this policy for this reason. Please call us at (252) 722-5006 if you're unable to keep your appointment.
Learn More About Electrolysis Hair Removal

Verified
TG-Friendly by
Laura's Playground

Member
American Electrology
Association

Member
Electrologists Association
of Illinois