Founder
Valeria Tartacovschi, LE
Electrologist
Accurate Academy of Electrology
Valeria Tartacovschi Licensed Electrologist, Owner and  Founder, Electrolysis 100% Permanent hair removal. For the past 4 years she worked for one of the best Plastic Surgeon in Chicago. The experience helped her  to possess the aptitudes to shift to  next levels of her  profession. With a true commitment to advancing in the practice, her experience and growing skill set keeps her at the top of the field. She  will go the extra mile to ensure that clients' expectations are not just met, but exceeded.
Electrolysis became Valeria's passion and career after having a personal, "magical" experience with electrolysis. Her desire is to help people feel better about themselves and their appearance every time they look in the mirror. By performing this effective permanent method of hair removal she is changing clients life by boosting self confidence and self-esteem.
"After being in my client's place and having 100% results, I know that permanent hair removal by electrolysis is the only method that really works for everyone, and really makes everyone happy."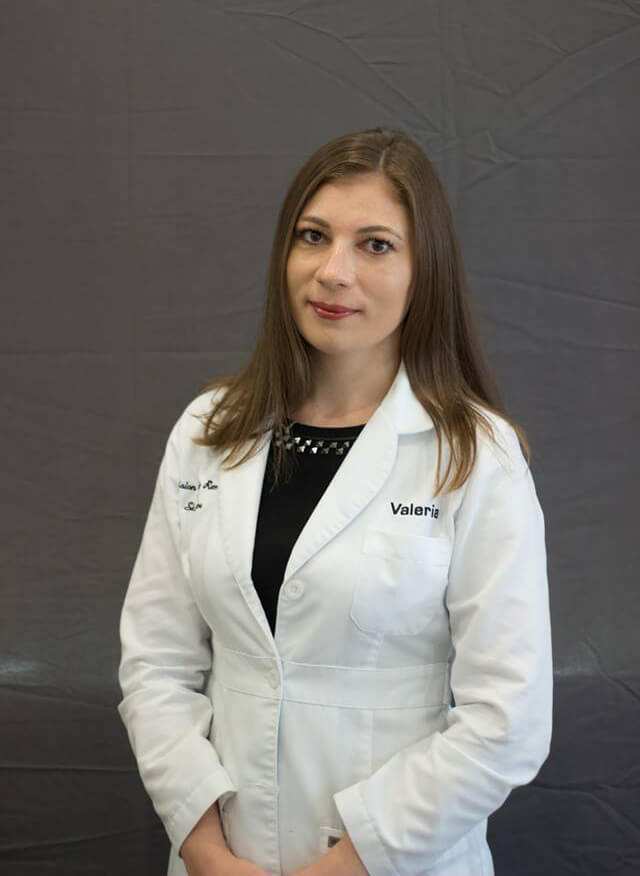 Anastasia Bodiu Stegich
Esthetician
Anastasia is a graduate of The Illinois Dedicated Electrology Academy.
She is a member of The Electrology Association of Illinois, and The American Electrology Association.
Anastasia has a passion for helping women young and old to look and feel their best.
She got into the beauty industry because of her own personal battle with unwanted hair – wanting to figure out a way to remedy her situation, while helping others just like her, particularly those with PCOS, and other hormonal imbalances that cause excessive hair growth.
She's always striving to deliver the best possible treatment to everyone's needs. With her experience and expertise, you are certain to receive the BEST of care.
Renata Ciszek
Local Anesthesia Injector
Renata Ciszek APN-BC has 14 years of experience in the healthcare system.
In April 2015, Renata graduated from the National Laser Institute in Aesthetics. Since then, she has had numerous training programs including Vampire Treatments (where she was personally trained by the inventor of Vampire Treatments, Dr. Charles Runels, in Alabama); Advanced Botox and Dermal Filler training in New York and Toronto; and multiple training programs in Chicago. She is also certified in lasers and Dermapen.