The goal of the IV Infusion Therapy is to deliver a higher dose of essential vitamins and minerals directly into the bloodstream, bypassing the digestive system to allow maximum cell absorption making it more effective and faster acting than taking them orally. Vitamins and minerals are essential nutrients for a healthy body and are obtained through the foods we eat.
What to expect with your treatment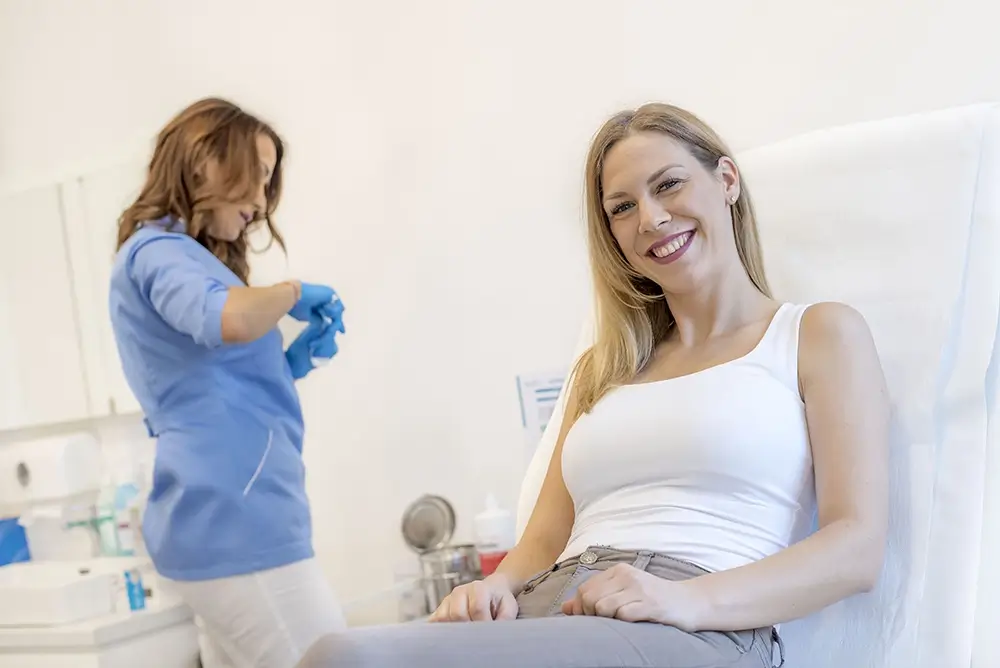 For your treatment our nurse will start an IV which is a simple procedure where a plastic catheter is inserted into a vein. You may experience a cooling sensation as the vitamin bag is infused. Should you experience any discomfort with the infusion please inform the nurse right away. Some patients experience a metallic taste in the back of the mouth. These are the vitamins (mainly the B vitamins) circulating in the bloodstream. This is completely normal. The Infusion will take about 45 minutes to 1 hour. Afterward, the IV is removed and you are ready to go. Again, it is important to continue to drink fluids to push out the toxins that some of the vitamins bind to. You may notice a vitamin smell to your perspiration after treatment. This usually resolves within a day. Your urine may be darker than usual. This is also normal. Should you have any questions, comments, or concerns after your treatment please contact our office.
Are there any side effects to IV therapy?
While it's an excellent all-around health and wellness treatment that almost anyone can benefit from it is advised that you consult with your doctor prior to the procedure to ensure that the IV infusion therapy is safe for you, depending on your health condition. There are small risks associated with the intravenous injection process, which may include bruising around the needle injection site, dizziness, nausea, headache, and an increase/decrease in blood pressure. In rare cases, it may also cause an allergic reaction or other more serious medical conditions. It is important to let your doctor know if you have any allergies or sensitivities to medications, as they can affect the type of IV therapy used. By following these simple precautions, you can ensure that your IV therapy experience is safe and successful.
What nutrients we put in the IV bag will depend on your specific needs.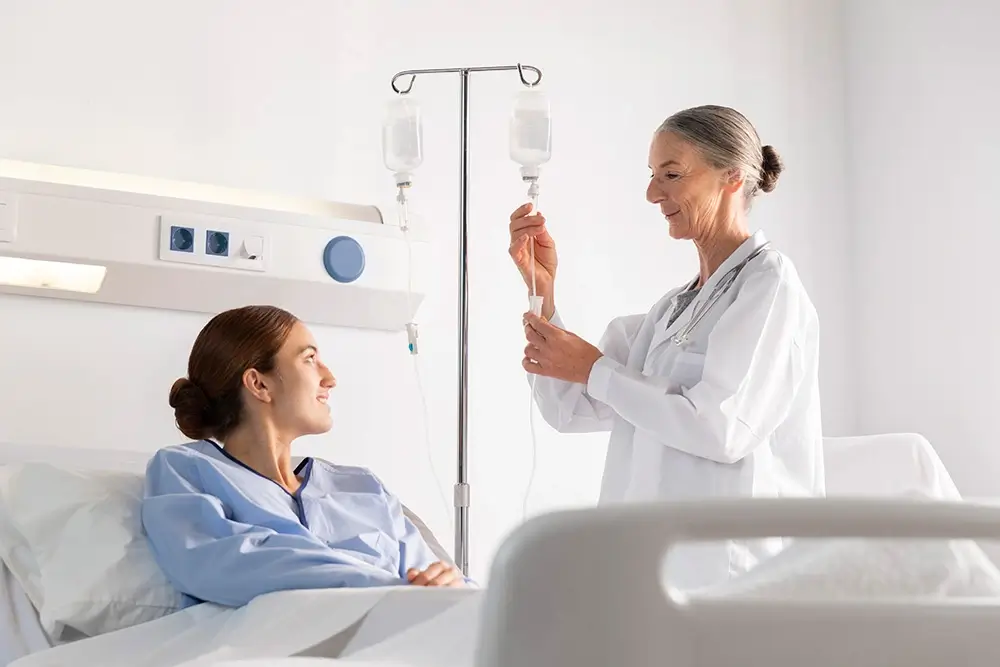 IV THERAPY MENU
Embrace our exceptional IV hydration therapy, a trusted and scientifically-backed solution, empowering you to invigorate your immune system and swiftly infuse your body with essential hydration and specialized vitamins.
Not sure where you are on your health journey?
Our team is here to answer any questions you may have and help you find the perfect treatment for your needs.
What are the benefits of IV Therapy?
IV Therapy benefits include rehydration, improved nutrition, cleansing and strengthening the immune system. In addition to these benefits, a rebound in certain nutrients (like magnesium) might occur because of the elimination of toxins from your system.
The process is simple; a needle is inserted into one of your veins which can be done through an arm or another part of the body. This then injects saline into your system and therefore one that puts you back on track with zero side effects.
Why use IV Therapy?
Benefits of IV therapy can include:
– Restoring electrolyte balance
– Providing fluids and nutrition when oral intake, digestion or absorption is impaired, limited or insufficient
– Supplying medications safely and accurately 
IV therapy could also contain long-term benefits such as preventing dehydration and decreased nutrient levels in the blood. It could also give patients temporary relief from symptoms such as headache, muscle cramps, nausea, fever and dehydration. Furthermore a person receiving treatment might have to have fewer treatments overall. Treatment from a doctor may be more effective because they know what they are treating you with according to your needs. A provider may be able to make adjustments for symptom severity depending on the patient's individual needs and condition.
Who is IV Therapy for?
IV therapy isn't just for the chronically ill or hospitalized patients – it's often used to combat issues related to acute injury, such as maintaining fluids and electrolytes after a car accident, or restoring minerals like calcium after an episode of vomiting or diarrhea from food poisoning. You may also see it being used by people with chronic conditions to boost their blood sugar between meals (such as people with cystic fibrosis), those taking immunosuppressive/chemotherapy drugs, those who are trying to recover from surgery, and pregnant women who have gestational diabetes.
There are many reasons people might need IV therapy. Some of the most common include dehydration, inflammation reduction, body detoxification, increased oxygen levels for patients who have a compromised ability to breathe on their own.
Some of the conditions that commonly involve intravenous therapy treatments are chronic kidney disease, congestive heart failure, high blood pressure and diabetes. Other types of intravenous treatment may also be necessary given the individual's condition like chemotherapy for cancer patients or other medications for people with chronic physical pain related disorders.
A person will often be referred to someone who is able to administer these treatments by their primary care physician or internist if it has been determined they are in need of one or more aspects related to IV Therapy mentioned above.
What types of IV Therapy is available?
A large number of people take oral magnesium to address deficiency with the placebo effect in mind. The same goes for intravenous magnesium. Some research indicates that magnesium sulfate found in a shot may be better by avoiding gastrointestinal distress, diarrhea, nausea and vomiting associated with oral tablets or capsules. There is no universal agreement on this, however.
Some other IV therapies include hydration – which is basically Gatorade or Pedialyte meeting the needs of dehydration or fluid loss so common among athletes – hangover treatments like Vitamin B12 infusions; NAD boosters used to combat chronic fatigue; and glutathione for drug detoxification like alcohol withdrawal and opiate addiction (among others).

Olympia Pharmaceuticals is a state of the art, FDA 503B pharmaceutical outsourcing facility and 503A pharmacy providing access to high-quality age management and nutritional medications across the US. Our growing line of anti-aging therapy products includes sterile injectables, non-sterile, lyophilized, and office use compounded medications for practice enhancement.