Electrolysis hair removal over tattoos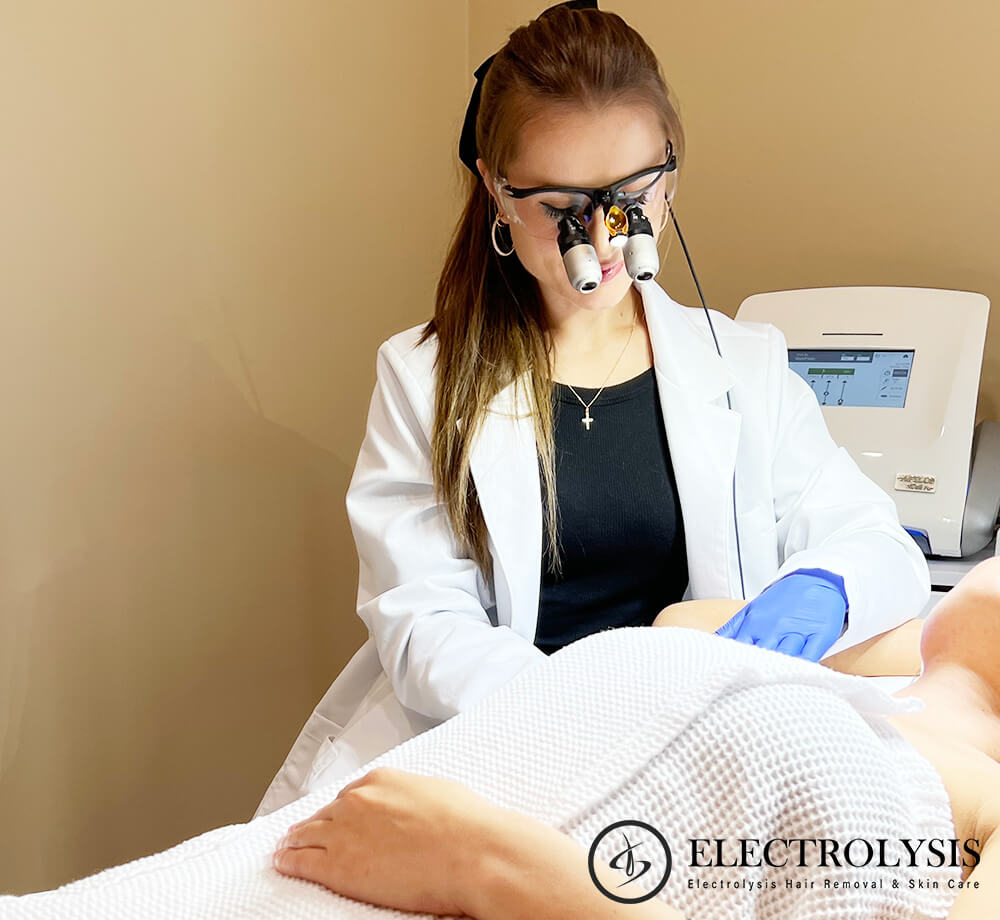 After carefully choosing, paying for, and undergoing the discomfort of getting a tattoo, people understandably want to protect their skin art. A good tattoo may need some maintenance after a few years due to the natural shedding of the skin, but it should remain bold and beautiful for decades. Hair removal is a big concern for many following their tattoo application and that's why our Electrolysis Hair Removal Team decided to share some tips on how to choose the best option for hair removal over tattoos so you can remain hair free and colorfully inked.
While tattoos can make permanent hair removal tricky, it does not mean it is impossible. But, if you are one of the 30% of Americans who have a tattoo, there are a few things you should know about your hair removal options and why it is important to take into account your body's uniqueness.
For unwanted hair issues, the two main contenders are electrolysis and laser. With professional electrolysis, an effect on tattoos is very unlikely. Electrolysis is deemed safe for tattoos and is considered a better option than laser hair removal. Since electrolysis uses small bursts of electricity to kill the hair follicle rather than heat like laser treatments, your tattoos will be unaffected.
Only electrolysis can permanently remove hair from existing tattoos to allow the artistry of the tattoo to stand out for both men and women. Electrolysis will leave the pigment of the tattoo intact and the skin beautiful with no possibility of hypo-pigmentation (white patches). In addition to artistic tattoos, many individuals are seeking permanent makeup (a form of tattooing) for various reasons, which may require permanent removal of hair. Such areas may include brows, lip line, areola, etc.
Now that we know that electrolysis is the best and safest hair removal option for tattoos let's look at how it differs from laser hair removal and answer some questions about the correlation between tattoos and hair growth.
Electrolysis Hair Removal
Electrolysis uses a minimal amount of electricity to destroy hair follicles. The treatment is highly precise, and it doesn't cause any damage to your tattoos. During your treatment, we insert a hair-sized probe into your hair follicle opening, so we can precisely deliver the correct amount of current into the hair follicle. You can rest assured that we are removing your unwanted hair without causing damage to your beautiful tattoos.
Why Can't Laser Hair Removal Be Performed on Skin with Tattoos?
Laser hair removal is one way to significantly reduce unwanted hair growth. However, it is not the best choice for everyone. Hair removal using laser treatment works best on dark, thick hair, and lighter skin. If you have very dark skin or tattoos, laser hair removal can cause your beautiful tattoos to fade.
Laser treatment for removing unwanted hair works by emitting strong pulses of light at a rapid rate. The energy is absorbed by the pigment in the hair shaft, causing hair follicles to become damaged. However, the pigment in tattoo ink also absorbs laser energy. If you get laser hair removal on tattoos, your body art will lose most of its color and the lines will blur and possibly bubble causing scarring.
Does Hair Grow Over Tattoos?
Before getting inked, the tattoo artist will prepare the skin by shaving the area. Shaving ensures that the artist has a smooth canvas to work on that is free of hair. However, getting a tattoo will not inhibit hair growth. After shaving, your hair will continue to grow at its average rate.
If you're bothered by constantly having to shave over your tattoo, electrolysis is the best option for achieving permanently smooth skin.
Do Tattoos Kill Hair Follicles?
In short, no. Tattoo ink gets injected into the dermis and does not affect hair follicles. During the healing process, hair growth may be delayed for a short time but will continue to grow again once the skin has recovered.
To prevent ingrown hairs, make sure your tattoo artist shaves the area in the same direction as the hair grows and also request that they use shaving gel instead of dry-shaving; dry-shaving is notorious for creating ingrown hairs. Also, a proper cleansing routine for your new tattoo will ensure that it stays moisturized and stays free of infection.
What To Consider Before Getting Electrolysis Treatment
Are you ready to eliminate unwanted hair for good? The first step is to schedule a consultation with our team for hair removal on tattoos. Electrolysis is a personalized treatment that we will customize according to your skin type. You may need a series of treatments to permanently remove hair on your tattoos. And before you visit us for your session, we will give you a few reminders on how you'll need to prepare for the treatment.
Before coming in, you should avoid direct sun exposure or tanning of any nature. And for us to efficiently perform your treatment, you should refrain from manually removing hair a few weeks beforehand. A little bit of hair growth helps us find the right angle for our probes and helps us glide the hairs out of the follicle. Furthermore, you should prevent taking any medication, such as ibuprofen and aspirin, which can affect how your body responds to the treatment. Alcohol and caffeine may also increase your sensitivity, so they must also be avoided.
If you want to safely remove unwanted hair on your tattoos, it's essential to work with experts who care about preserving your body art. With our years of experience in hair removal, you can rest assured that your precious tattoos won't be harmed during your treatment session.
There is no safer or more efficient company for your electrolysis hair removal service. Remove hair on your tattoos safely with Electrolysis 100% Permanent Hair Removal & Skin Care in Chicago, IL.
---
Learn more about Electrolysis Hair Removal